Predicted Solar Data
Solar Data/Propagation
Click to add to your website



Online Links and Favorites






Of course I think my Solar Widget(s) are the best, but there are other free sources available. You choose which one you like the best.

May 16 2022 - My ISP is experiencing firewall/server problems causing slow loading or random 502 errors. They are working it as we speak. Until then just keep refreshing every minute or so and it will eventually load.
May 16 2022 - Smoothed Sunspot data is now available from two sources, NOAA (SN) and the Northwest Research Associates (NWRA) Effective Smoothed Sunspot Numbers (SNe) used by various propagation prediction programs. NWRA SNe selectable for Global, northern or southern hemisphere data. Currently the only banner that will display this data is the solarn0nbh.php banner. See the glossary of terms and FAQ page for additional and configeration information
HF Propagation Tools and Solar Data are now on multiple pages for faster loading
Use the buttons at the top and bottom of the page to navigate, or use the following links:
For Online MOF/LOF HF Propagation Prediction Tool, and conversion tools click here
For Solar-Terrestrial Data banners and widgets (both web page and devices) click here
For Understanding/Using Solar-Terrestrial Data, Solar Images, and HF Tutorials click here
For current Space Weather and HF Propagation Conditions, and MUF Maps click here
pdf presentation that contains tutorials and information on understanding radio propagation, and how to use all the data contained in the solar panels. You can download from this link
pdf presentation that contains detailed instructions on adding a banner to your www.qrz.com BIO page. You can download from this link
NOAA SWPC WSA-Enlil Coronal Mass Ejection (CME) Solar Wind Prediction Model
Courtesy of NOAA SWPC. Still of the latest model run is provided directly below when a CME event is predicted, along with comments from SWPC. A tutorial is provided below that, which helps in understanding the model output.
Please visit the NOAA SWPC WSA-Enlil Solar Wind Prediction page for the full functionality of modes, time, speed, and additional information.

Click link or image to visit the Storm or CME Prediction Model page. Note that SWPC only updates the CME-based model when there is a potentially earth-directed CME.

This is a GREAT tool for viewing CME events, and the corresponding solar wind speed and density for use in predicting both Auroral events and HF blackout conditions.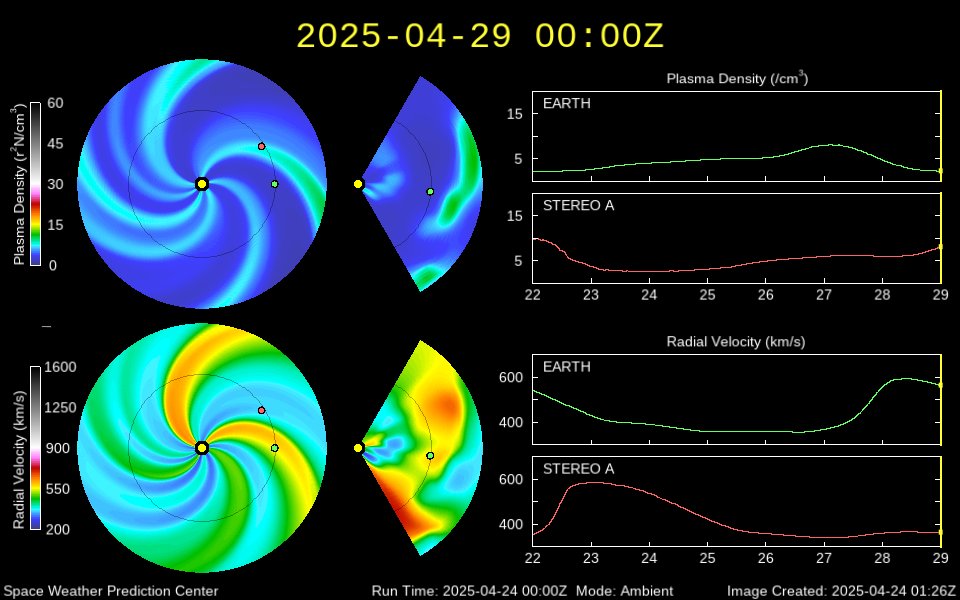 NOAA SWPC WSA-Enlil CME Solar Wind Prediction Model Tutorial
Here is a tutorial NOAA SWPC WSA-Enlil CME Solar Wind Prediction Model. Clicking in the image will also open the full featured NOAA SWPC webpage.
OVATION Aurora Prediction Model
Courtesy of NOAA SWPC.
New Auroral Forecast product is based on the OVATION Prime model which provides a 30-40 minute forecast on the location and probability of auroral displays for both the northern and southern polar regions
Click link or image to visit the OVATION Aurora page.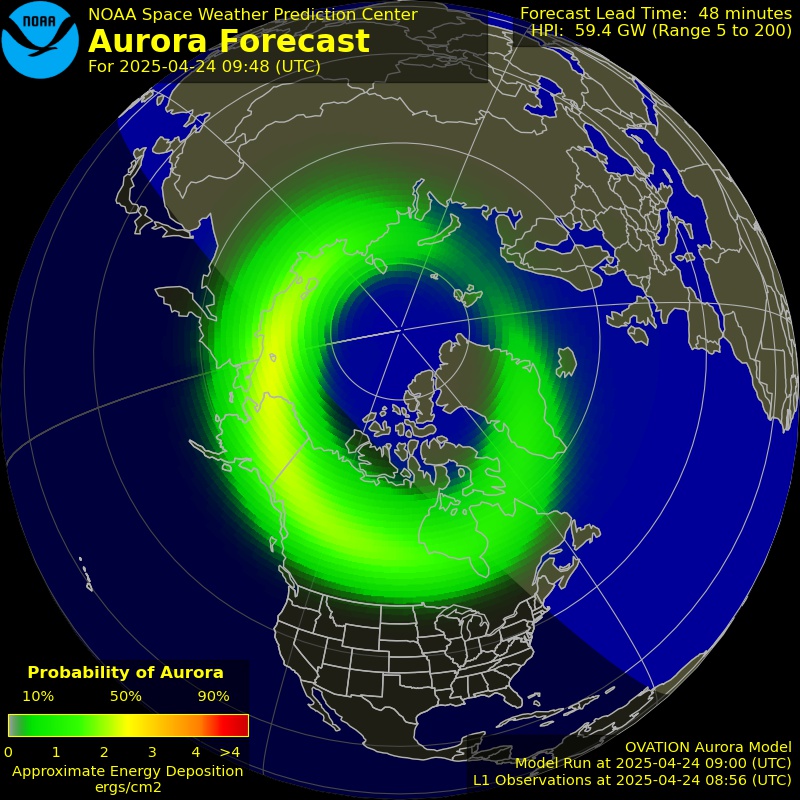 Northern Aurora Prediction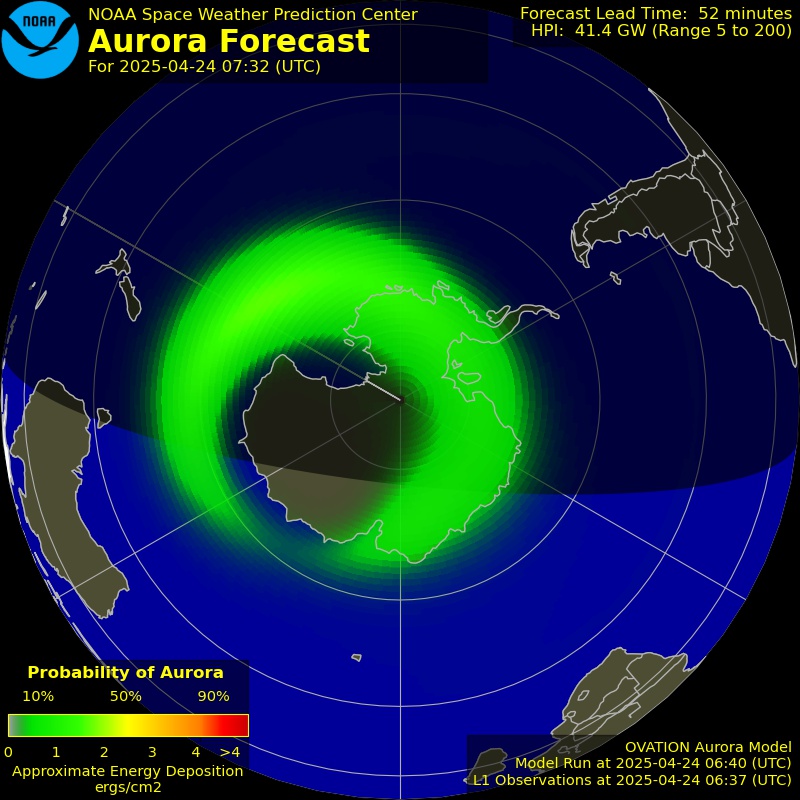 Southern Aurora Prediction